High-quality composite solutions
made with advanced filament winding technology
In L-Tec Sport we use high-quality composite technology to make long-lasting and durable products. Our advanced fiber winding is based on on-going winding product line which also goes by name filament winding.
Our main products are carbon and glass fiber baseball bats, golf clubs and ski poles carbon fiber tubes. We take advantage of our product line by planing and manufacturing custom-made composite structure subcontract products to industrial section.
Contact us and our professionals help you to find the best and sustainable solutions to your company!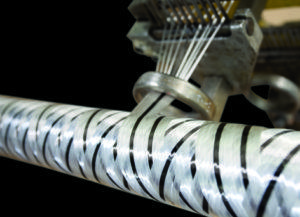 What can be manufactured?
Filament winding suites to different productions when the product needs to be strong and light at the same time. With this procedure you can get cross sections which are round, oval or rectangular poles, pipes and masts. Filament winding fits also for coating different containers and other kind of materials.
Filament winding method fits especially to products which are:
Elongated
Light to use
Stiff and long-lasting
Endures dynamic load, weather changes and corrosion.
Demands decompression
Products that need different technical qualities in different parts of product.
Generally we use glass or carbon fiber. If needed products can be also manufactured with kevlar, plastic or nature fiber (f.ex. linen).
L-Tec manufactures i.a.
Poles
Pipes
Sticks
Bats (f.ex. baseball bats and golf clubs)
Symmetrical and unsymmetrical cyliders
With filament winding we can also manufacture
Transmission axles
Penstocks
Structures that can take the pressure of corrosion and chemicals
Industry dictionary:
3D NL wind:
Nonlinear on-going filament winding technology that allows producing different shaped products.
Fiber winding:
Producing method for fiber strengthened products. Fibers are pressured with plastic substance and rolled around the mold.
Composite:
Combination of two or several materials. In composite materials work together but they won't dissolve or blend in to each other.
Resin:
Resin is like a stiff liquid . It can be found from nature or made synthetically. Normally producing plastic composites contains mixture substances from pre-polymer mixture.
Carbon fiber:
Made from organic fiber with charing method. Carbon fibers used as reinforcement are made from polyacrylonitrile fiber (PAN) and smaller spinned fiber.
Kevlar:
Polymeric fiber that are used for instance in bullet proof vests.